Over the last two weeks, I've been taking some classes through Treehouse to learn how to create iPhone apps. I feel like my web development skills are in a good place, but I would like to begin learning to create apps that are native to phone devices. I've tried a couple of different online classes to try to find the one that works best for me, and so far I've been most impressed with Treehouse.
.@paradoxed explained pointers better in a couple minutes on @treehouse's ios course than my CS professor did in 3 hours. Love it.

— Dennis Beatty (@dnsbty) July 31, 2014
After my first week in the course, I had already made up my mind that I would continue to use the service after my trial ended, especially when I found out that I could get a discount for being a student. However, I was very pleasantly surprised to receive an email yesterday (two days before my free trial ends) with instructions for cancellation.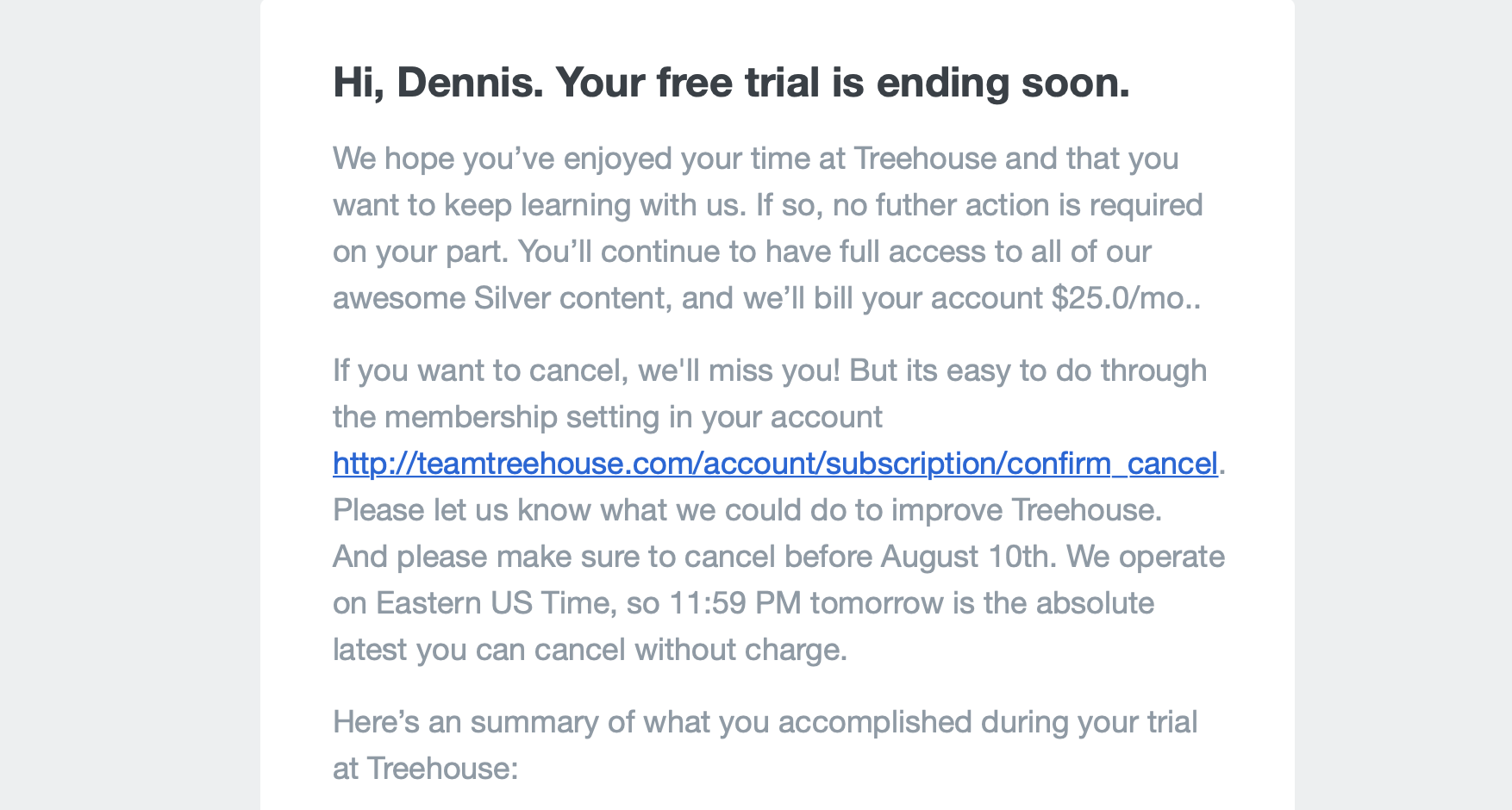 I'm always worried about signing up for free trials because I often forget to cancel before the two weeks or one month or however long I have is over. The company has my credit card info, and so I will end up paying for at least one month, even if the service is one that I'm not actually interested in. I always have to remember to set a reminder in my phone to tell me to cancel, and even then I sometimes still forget.
In fact, I'm pretty sure that many companies take advantage of this. Many will make no contact at all during the last week of the trail, and I completely forget that I'm about to get billed. After the fact they tell me, "Oh, we're so glad you stayed." Too bad I'm not. What Treehouse chooses to do by offering a clear and direct link to their cancellation page is show confidence in the product. And rightfully so, considering it's one of the best that I've found.
Just as self-confidence makes people attractive, confidence in the product makes companies attractive.
If your product isn't performing as well as it should be, get it there first. But then show confidence in the product, and let your confidence be seen. Make cancellation links extremely visible. Provide forums where customers can give visible feedback. Highlight the capabilities of the product, rather than those of the team behind it. Don't resort to exploiting the fine print to pad your stats. Show confidence in the product, and let it sell itself. Your customers will thank you, and so will your sales figures.